Super Yummy Vegan Sweet Potato Crust Pizza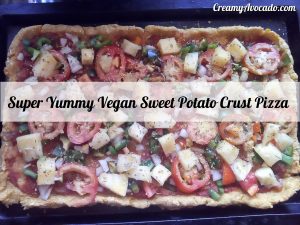 Just like yours, my family enjoys eating a variety of foods. 🙂  I try my best to include natural, unprocessed ingredients to ensure they are eating a healthy, wholesome meal.
Fresh produce is also a must at home so my fridge is occupied mostly with fresh, colorful vegetables. It makes me happy to see that!
One thing I realized in my journey back to health is that you can adapt your favorite meals and convert them into healthy dishes without compromising on taste! I enjoy cooking simple and rustic dishes packed with nutrients.
For some reason, when people think about healthy meals the first thing that comes to their minds is bland foods and this is one of the reasons why they're not very crazy about changing the way they eat but let me tell you, you can create delicious meals, cruelty-free and with amazing flavor.
Now that being said, Chef Sol Borde (ME, hahaha) prepared a super yummy Vegan sweet potato crust pizza that is so ridiculously delicious that it will satisfy any craving for pizza.
Don't kill the idea before trying. No, it does NOT taste sweet at all. As a matter of fact, you will have a very hard time realizing you're eating sweet potatoes! It doesn't taste like sweet potatoes at all. It taste like a regular flour crust without any of it!
Let me warn you, this recipe does not include Vegan cheese which is mostly fat (who needs that?).  If you must have cheese, there are some Vegan brands in the market which I think use vegetables and natural ingredients. However, you definitely don't need it in this recipe. It is perfect just the way it is.
Shall we begin? 😉
INGREDIENTS
2 large sweet potatoes (or approximately 2 cups of mashed sweet potatoes)
2 cups of oat flour
Two (2) cups of traditional oats or quick oats
1 can of tomatoes (stewed) or your favorite pasta sauce
TOPPINGS

1 large chopped onion
Pineapple (chopped)
Sweet (bell) peppers (chopped)
Nutrional yeast
Pizza seasoning or oregano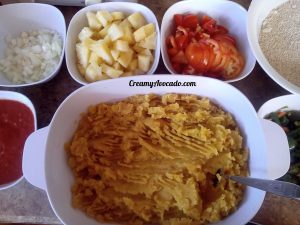 METHOD
Peel your sweet potatoes, cut them in small pieces and put them to boil. Drain. Place the sweet potatoes in a large bowl. Using a potato masher, mash all the sweet potatoes carefully. Ensure they are well mashed.
You can also use a fork to ensure smoothness. After your sweet potatoes are mashed, let it cool for around 10-15 minutes since you will need to use your hands in this recipe so you need to ensure they are not too hot to work with.
After they are cool, add little by little the oat flour. You can use a spoon or a fork and start mixing everything up. Now, use your hands to mix everything. You will realize that little by little is looking more and more like dough.
Add now (little by little too) the 2 cups of traditional oats or quick oats and continue mixing until everything is incorporated.
You will know it is ready when you can form a ball or a patty easily.
Place parchment paper in two baking sheets or pizza molds. Take half of the dough and make a ball. Using your palms start shaping the pizza in whatever shape you would like (round or rectangular). The crust should be around ½ inch thick.
Let it bake for around 15-20 minutes until the dough is slightly browned.
SAUCE AND TOPPINGS
Now, let's add the sauce. If you are using plain marinara sauce you just need to add it. If you are using whole tomatoes in can, try to blend it all and then cook it until it thickens well and then add it to the pizza.
Now, let's add the toppings. Yum! I chose these but of course, you are free to add any you might like such as mushrooms, olives, spinach, etc.
Sprinkle pizza seasoning and nutritional yeast and let it bake for approximately 20 minutes. And voila! A super delicious guilt-free pizza that everyone enjoys!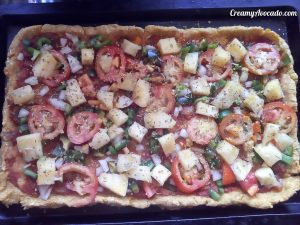 This is definitely the kind of pizza you won't mind going for seconds or thirds. It is child approved too. 😉
Happy eating!
Please let me know in your comments below what are your favorite toppings for pizza!