What My Grandmother Taught Me About Corn Silk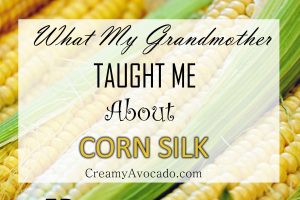 Guys, this post brings so many memories to my mind. I remember super-hot summer days and my grandma preparing a very refreshing drink to keep my sister and I well hydrated.  A cold tea made of corn silk.  It was so common to drink this for me that I really never thought that perhaps some people may find it odd.
Isn't that something? You can eat/drink unhealthy things and no one says anything, you eat/drink something natural and everyone loses their mind, oh the irony!
Anyways, when I was around 6 or 7 years old I remember my older sister suffering from urinary tract infections  mostly due to the fact that she never drank enough water (don't we all? And we know how important it is to drink lots of it right?).
If you ever had a urinary tract infection before you know exactly how painful they can be (yikes!), even more for a young girl. But thanks to my wonderful grandma things were about to get easier for my sister.
WHAT MY GRANDMA TAUGHT ME

Every Friday morning, grandma visited a local farmer-market near her home. I looked forward going with her because I used to enjoy seeing the amazing variety of beautiful, fresh fruits and vegetables. A true paradise for those who believe in clean eating! She would buy fresh corn on the cob and as soon as she reached home, I would help her clean them. We would take out the green part of the corn and then carefully remove the corn silk.
If you are not familiar with the parts of the corn, the silk are those little strands that look like "corn hair". If the corn happens to be the yellow kind, the little strands look like blonde hair (so cute!) Most of the time, when people buy fresh corn from a farmer-market they will throw away the silk, not knowing its wonderful medical properties.
According to Jethro Kloss, in his wonderful book "Back to the Eden", corn silk is a wonderful remedy for kidney, bladder and prostate troubles. But it also has other benefits in the treatment of obesity and PMS.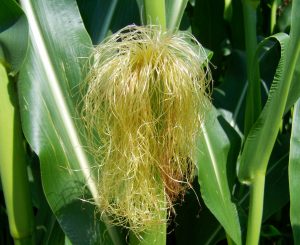 HOW TO PREPARE CORN SILK TEA

My grandma would take a small little bunch of this silk, boil it and let it cool down completely. You will see how the water changes color, once it cools down just drain it and drink it. I prefer to drink it when is nice and cold so yes, you can store it in the fridge for a couple of days.
If you rather drink it as a hot tea, you can also do that. I don't personally add any artificial or natural sweetener to this drink when is taken cold or hot because I believe it is very tasty on its own.
Like most things, you have to be cautious and wise with regards to its use. Too much of anything isn't always good in the long run. If you happen to be pregnant, I would seek the advice of a professional first before you consume it. Also, if you have a corn allergy this is definitely a no-no in your books.
Thanks to the wisdom of my grandma, this wonderful beverage became one of my favorites during the summer time growing up.
So do you think it is worth a try? Please let me know, I would love to hear your experience with corn silk and how it helped you.